I cant remember the day I caught on to the concept of 'Internet Marketing' and 'making money online', but I am certain it did not come too long after signing up (in order to receive something free) to one mailing list or another.

Now skip to a few years and about 30-40 lists later.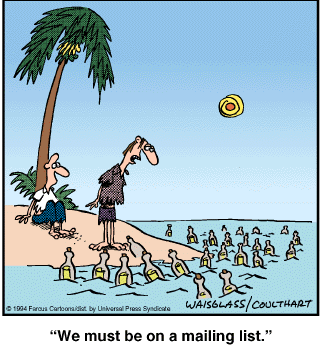 Every now and then someone will regurgitate an email they sent months before, or be so vague in their pitch to send me somewhere (with such a cloaked link that you cant even guess where you may be heading), and I get annoyed. Now I am one of THE MOST EMOTIONALLY STABLE PEOPLE I KNOW.. It takes A lot to ruffle my feathers..


HOWEVER, some of these email guru guys are really beginning to PISS ME OFF.

When I replied to one of them to make a comment, this was my response:

"I'm protecting myself from receiving junk mail.

Please click the link below to complete the verification process.

You have to do this only once. "

protecting themselves from JUNK MAIL… hahaha.. well the laugh is on me until I hit unsubscribe..

My question to you may not be what you expect:

Are NEWBIES SO Prevalent that these people are still sucking them in and making a killing off their lists??

or

Have these mailing list owners gone mad, and are selling their souls in order to get as many conversions as possible, regardless of unsubs and all the guru bashing that goes on behind their backs??

If it is the former, then PEOPLE please sign up as you trickle in, since I want to make a LOT Of money.

~~ andrea